Shai has been a long time part of the Eastside Radio family as a presenter on our Breaking Waves show, a show that celebrates the neurologically diverse. He presents with his trusty sidekick, friend and companion Geoff Forrester.
Amongst being an excellent presenter, crafty joker and an incredibly knowledgeable individual, Shai is a very talented artist.
As Shai says, "I like painting people, especially famous people. When I paint I feel relaxed and I have used my
art as a therapy to remain mentally well".
Shai recently showcased his creative flair at the Wonderland Art Festival in Bronte. Here are his two most recent pieces of artistic brilliance: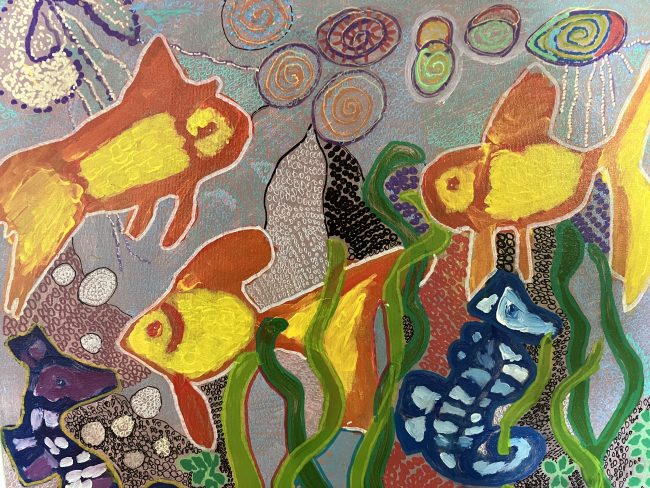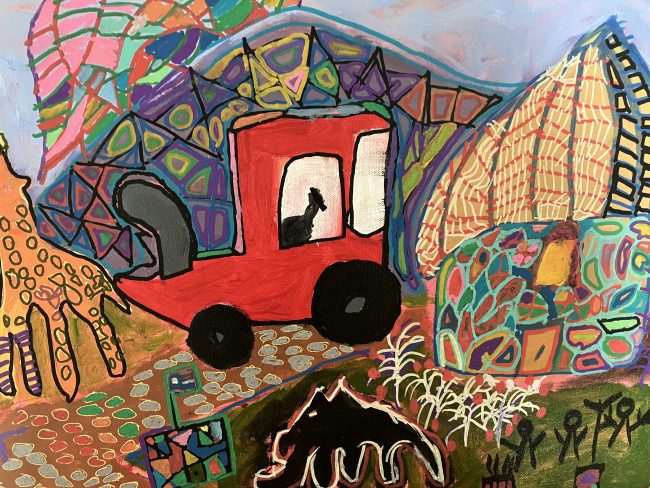 Shai's art is bold and lyrical and he has a keen sense of colour. His confidence with colour stems from his
childhood living in Mozambique. He moved to Sydney at the age of 10 and has been a practising artist since
2010 when he first attended "Urban Arts Base" in Double Bay. He has studied art at: Sydney College of the
Arts as part of the Uni2 program 2013-15; Waverley Woollahra Art School in 2016-17; National Art School
Open Program in 2018-19; Studio A; Studio Artes, Rozelle; and the Art Studio in Maroubra in 2019 and 2023.
He has benefitted from private tutoring since 2012 with Yvonne Hocothee, Christina Rogers from the Sydney
Art School and Kieran Gordon currently.
"Shai really does have a special talent. What impresses me is his innate grasp of
colour, and the form is very expressive. The ones that impress the most are the ones where he just paints directly. Note that he just paints, they are not "worked" in any way. He has an innate grasp of how the colours look alongside each other. This is so different to most artists – because colours look different alongside each other and they are unsure of the exact composition they have to "work" it a lot. I guess because of his condition he is able to keep the images in is head, and then he just pushes it out semi-spontaneously".

The wise impressions and words of a seasoned art collector.
You can catch up with Shai and his adventures, projects and heart-warming nature on Breaking Waves, Mondays 6-6:30pm. For previous episodes visit here.
Share "Breaking Waves Presenter Shai de Vletter-Sont Showcases His Recent Artwork"
https://eastsidefm.org/breaking-waves-presenter-shai-de-vletter-sont-showcases-his-recent-artwork/