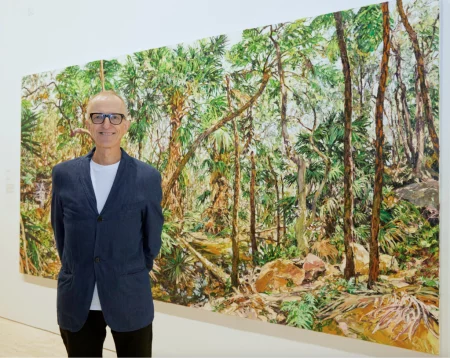 One of Sydney's if not one of Australia's most gifted painters, is Nicholas Harding. To the shock, dismay and sadness to all, Nicholas passed away recently on the 2nd November after an extended illness. This week we celebrate Nicholas's incredible contribution to the art cannon of Australian painting.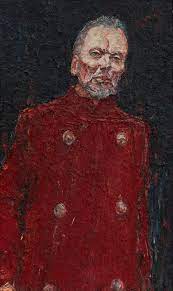 Known for his generous lush thick impasto, his renowned portraits and paintings of rugged Australian landscapes have sold out solo show after show. He leaves behind a vast body of work. His portraits were finalists in the Archibald Prize for 13 consecutive years, winning in 2001 with a portrait of John Bell as King Lear. He was also a finalist in the Sulman Prize 3 times, and the Wynne Prize 6 times, winning the Wynne  prize this year with a monumental work entitled, Eora.
His Landscapes are often vast in their dimensions and the viewer feels they can walk right into them and somehow experience it insitu: stand under the trees, watch the bubbling stream as it sparkles and shimmers on its course to a paradise that you feel is there but not sure where. His ability to capture the dappled light of the Australian forest is so lifelike, his generous application of oil paint creates a 3 dimensional surface so that up close it's just paint but from a little way away it's a leaf, a stream or a rose.
Arts Wednesday is replaying an interview from July this year recorded just after he won the Wynne Prize for his work, Eora, a composite of several virgin landscapes in the Sydney basin.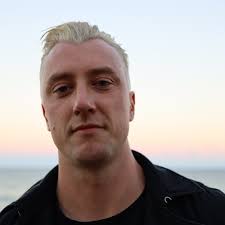 Also we speak to local musician, Harrison Hatfield, who goes by the name Bad Field Trip. 2 Tracks from his new album, Under the Faded Sun, were picked up by JJJ's unearthed. A prolific writer, he channels 90s trip hop with hip hop beats blended with audio samples, turntable scratching and evocative vocals.
In his spare time he also runs the gym at the Bondi Icebergs, not a bad office with a million dollar view. You will find his music on Spotify, and Youtube.
Arts Wednesday 16 November 2022   1030-1200
89.7fm
DAB+
Share "Vale Nicholas Harding plus we speak to Bondi musician Bad Field Trip"
https://eastsidefm.org/vale-nicholas-harding-bondi-musician-bad-field-trip/