Approx. 8 minute read
The thing that I love about volunteering at Eastside Radio is the opportunity to meet fascinating people with whom which I might not have otherwise crossed paths. Eastside Radio brings together people from all over, each with their own perspective, unified 'Side by Side' by our dedication to community, arts, music and culture.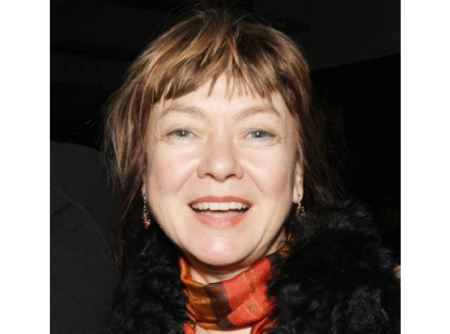 I had the opportunity to work with Monday Drive presenter, Ruth Hessey, in a branding committee assembled to revisit how Eastside Radio communicates its values. I was struck by Ruth's presence and confidence in sharing her perspective while collaborating with the group- I learnt a lot by observing how she operates. She seemed like a lady who knows what she wants and has had a trailed life of adventure to back her up her sense of self. My intuition proved me right! This woman is dynamite, with some explosive language to match, you have been warned…
Sonia de Freitas: Hi Ruth, How are you and where does our interview find you today?
Ruth Hessey: In terms of radio, I am very much enjoying producing the Breaking Waves series for Eastside. The 6 presenters I've put together are all fascinating and courageous people in different ways and I am loving our weekly conversations as we prepare the show. It's added something really wonderful to my relationship with the station after presenting Monday Drive for over 8 years, which I also love.
SdF: How did you land your first media gig?
RH: I wrote a film review for the Eastern Herald and within 3 years I had become an arts editor on that paper, moved to a desk on the Sydney Morning Herald, starting writing for The Age, and was head hunted to Vogue Australia as the feature writer. Prior to that I had attained a BA majoring in film and theatre and I worked as an actress and waitressed until I was about 28 and started writing for Fairfax. My boyfriend was a music writer for Rolling Stone when we were at university so we always had tickets to gigs and concerts and later I wrote film reviews and profiles for that magazine and also Juice and other popular culture magazines. Then I started writing fiction and edited a collection of short stories for Allen & Unwin, Screwed: Tales of Love and Sex. I also co-wrote The Dealer Is the Devil (Brandl and Schlesinger), a book about the history of aboriginal art. I am currently half-way through writing my own book about psychedelic medicine. It all started with that film review.
SdF: Can you tell me about your journey in media? When did you know that you were going to make it your career?
RH: My career took off so fast even though I had no training in journalism, I got into the media by accident rather than design. It was a very sexist, cut-throat industry in the 1990s and I worked stupidly hard and I learned a lot very fast. I was able to travel the world as a travel writer, I worked as a television presenter and I did a lot of radio freelancing weekly for the ABC. I interviewed all the big successful directors, actors and artists which was like going to film school and I wrote for all the big mastheads. My last full-time position in journalism was as the film and television editor for a popular publication when it launched in Sydney. The editor was an alcoholic who screamed at everyone every day, reducing staff to tears on a regular basis. He also expected us to work 16 hour days. It wasn't the first time I'd worked for a badly behaved narcissist, but it made me realise that journalism was no longer the right career for me. It didn't matter how good I was, people like him always seemed to have the position of power.
SdF: Why do you volunteer at Eastside Radio?
RH: I missed journalism! It was a magic carpet ride and I missed the access to great thinkers and artists and the people who shape our culture. And I really missed radio. I was working in the environment movement and I had pitched a show to the ABC who didn't see the need for it – that was over 9 years ago. So, as I'd always listened to 89.7fm I pitched it to Tony Smythe and he said yes. After about a year he offered me Monday Drive and I have loved it more and more every year since. I love the community of other presenters and all the fascinating programs on 89.7fm, the freedom to make a show on my own terms, the exposure to contemporary music. It's one of the best things in my life.
SdF: Have you experienced particular professional challenges due to your gender? How did you overcome these challenges and what do you think needs to change to avoid these challenges in the future?
RH: Sadly, like most women the answer is YES. Throughout my career in journalism, I was literally told to dumb myself down, I was overlooked when it came to promotions and I was paid much less than male reporters and broadcasters. I put up with a LOT of bad behaviour. For example, for 5 years I was on a contract to the SMH writing several thousand words a week for which I received a flat rate with no contribution to my home office bills. The expectations were high, the deadlines were grinding and I received no holiday or sick pay. When I left, the on-staff male reporter who replaced me was paid twice as much. As a freelancer I had to fight endlessly to be paid for work I had already submitted, even after it had been published, a situation which continues to this day. A story I wrote for a prominent women's magazine  in 2019, which they had commissioned, sat on the shelf for 3 months while the editor held up the payment because she hadn't had time to read it. They sent me to Spain as a make-up present shortly afterwards but when you can't pay your bills because publishers owe you money, it's quite soul destroying. In women's publishing, which is controlled by men but run by women, the assumption is that you must have some independent means and are not actually working for money as a real job. In the male dominated press my talent was encouraged until I hit my mid 30s. After that I was consistently harassed, undermined, shouted at, and even sexually assaulted. I was a really talented, super hard-working journalist but making a living out of it was crushingly difficult. I'm sorry to say I had a lot of ugly experiences, particularly because I stood up for myself, but I survived. The world is changing. And I'm not finished!
SdF: What advice would you give your younger self?
RH: Julia Banks has recently quoted Helen Mirren and I think they are both right – I'd say fuck off more! Not that you have to be an aggressive feminist 24/7 – in fact finding ways to cultivate inner calm and confidence so you greet bad behaviour with equanimity is really important – but for years I thought I must be doing something wrong to be treated so badly by many of the men (and the women they promoted) that I was working for. It was only after #MeToo that I finally put it all together and understood the entire system is rigged. I'd say to my younger self – your male allies, the good guys, are your life-lines. The swinging dicks and bullies flourish in hierarchies that reward narcissism and misogyny, but there are good men. Only work for them. Otherwise, at all times, make sure you are working for yourself. Your job will never love you back, but your talent and creativity will create a path for you through life that will be rich and surprising. And I'd also say – don't worry about what you look like! Rose McGowan recently said she cut off her hair so the world would listen to what was coming out of her mouth. High heels, push up bras, expensive hair, and tight skirts are signals to the patriarchy that you are playing the game – trying to please the coercive Big Brother or find a Sugar Daddy. If you think you can survive without pandering to those cliches (and you CAN), don't wear the costume. The amount of creative energy women waste trying to improve how we look robs us of precious time we should be putting towards attaining more meaningful personal goals. Take care of yourself, take care of your friends and colleagues, and value kindness and good humour above almost everything else. Spend as much time as possible off work being with your loved ones. And the rest will come.
SdF: Tell me about a place to find creative inspiration.
RH: I listen to a lot of music, both on Eastside and my private collection and I walk at least an hour a day and swim and practice yoga. The ocean really keeps my mind clear and walking to the cliffs every day puts me back together whenever I find life overwhelming. Being connected to this beautiful planet and the natural world around us fills me with inspiration and joy no matter what else is happening.
To learn more about Ruth Hessey and Monday Drive visit: eastsidefm.org/mondaydrive
Keep an eye out for my next interview in the Shout Eastside Shout series where I interview Sylvia Rosenblum.
Did you miss the previous Shout Eastside Shout instalment? Read about Melanie Christodoulou here.
Share "Shout Eastside Shout: Ruth Hessey"
https://eastsidefm.org/shout-eastside-shout-ruth-hessey/