The Australian Brandenburg Orchestra performs a selection of J.S. Bach's most popular music at the City Recital Hall – Friday 11 November 2022.
Reviewed by Paul Neeson (Arts Wednesday)
There has been a real plethora of Bach inspired concerts of late, and to this reviewer the best I have witnessed would have to be the Australian Brandenburg Orchestra in Bach's Universe.
The first half of the program was a pastiche of some of Bach's most popular tunes. Guest Director, Jonas Zschenderlein and Artistic Director, Paul Dyer, had their work cut out for them to have to whittle down the possibilities to just 5 works.
Each of the soloists was given the opportunity to shine: Jonas Zschenderlein in the Violin Sonata BWV 1023, Jamie Hay in the Suite for Solo Cello BWV 1007, Ben Dollman in the Sonata for Solo Violin BWV 1005, Shaun Lee-Chen in the Partita for Solo Violin BWV 1006 and Zschenderlein again for the Violin Concerto BWV 1042.
Zschenderlein kept the band on track throughout with his competent direction from the violin. The narration spoken by Nida graduate, Leinad Walker and written by one-time ABC Classic presenter, Christopher Lawrence held the disparate pieces (they were mostly single movements from larger works) together in a coherent half of entertainment.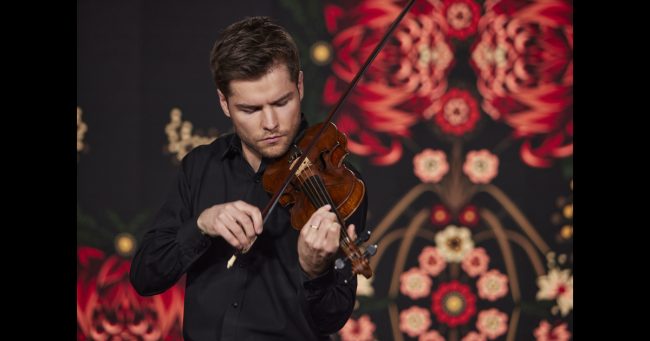 But the real highlight came after interval in the Concerto for 3 Violins BWV 1064R. This is a piece that was previously unfamiliar to me, and in it I found a new Baroque favourite to add to my top playlist. In particular the slow 2nd movement displayed Bach's genius at its best, his ability to interweave 3 distinct melodies over (at times) a solo cello continuo was sheer delight. And to pile pleasure upon audio delight, Bach's unending ability to reinvent each melody left you wondering how much better can classical music possibly get.
However I can't write a credible review without some criticism, and this is admittedly a very minor detail of interpretation. To me every single note in the Baroque ornamentation is of equal importance, particularly the final note, but the orchestra and indeed each of the soloists seemed to place the weight on what was to follow the ornamentation rather than the notes contained within them. This could only have been a stylistic choice to be so consistent, and given that these musicians are highly experienced specialists in this exact field, I must defer to their decision.
And to finish the night, the ABO pulled out all stops for the Orchestral Suite No.3, with no less than 25 musicians on stage (add 2 oboes, bassoon, 3 trumpets and timpani). With hummable tune after hummable tune crammed within its 5 movements, the audience went home very happy as was evident from the extended enthusiastic applause.
Share "Review: Australian Brandenburg Orchestra and Bach's Universe"
https://eastsidefm.org/review-australian-brandenburg-orchestra-and-bachs-universe/