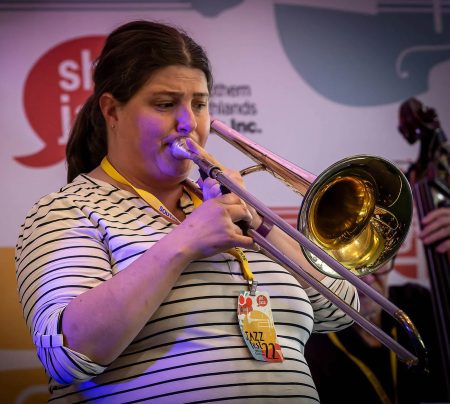 Trombone player, and band leader Alex Silver is featured in the Changing the Face of Jazz series .  The series focuses on young women instrumentalists who have been making their names in jazz in recent years. Alex tells how, when faced with a choice between playing glockenspiel and trombone in a school band, she opted for the bone, which jazz listeners across Australia are very grateful for. In 2005, she was the first young woman to receive the Jann Rutherford Award, which was established to give support to emerging female jazz musicians. She then became the main coordinator of the annual Young Women's Jazz Workshops . The Workshops were initiated in the early 2000s by Sandy Evans with the Sydney Improvised Music Association, SIMA, to encourage more young women into playing jazz.
Alex has a strong connection with 89.7fm Eastside Radio. When she was still at school she was a volunteer and regular presenter at the station, which we recognized by the station awarding her its Marg Barry award, which is given in recognition of having made an important contribution to community radio.
The profile of Alex Silver was first broadcast as part of the Jazz Made in Australia programme  on Eastside and published as a podcast in 2017. It includes tracks recorded at a performance by Alex's quartet for the Jazz Action Society .