reception | Sep 12, 2012 | Comments 0
This weekly community gig guide is proudly sponsored by City of Sydney's plan for the future-Sydney 2030- making our city more green, global and connected
Argentine Film Festival
With a film history over 100 years long, it's amazing that this is only Australia's first Argentine Film Festival. With seven feature films and two nights dedicated to short films, this is shaping up to be a brilliant and eye-opening celebration of film. No matter what kind of cinephile you are, you will find a movie to suit your taste.

WHEN: Thursday 13th – 19th September
WHERE: Bent Street Entertainment, Quarter Driver ave, Moore Park
HOW MUCH: Varied
For more information click HERE 
Circaholics Anonymous
Circaholics Anonymous is a fire-based performance group who insist that fire is not a part of their show but, rather, IS their show. All members are experienced in a variety of circus arts from juggling to acrobatics and everything in between. The combination of these skills, daring stunts, a dash of comedy and a LOT of fire makes this a great show for all ages.

WHEN: Thursday 13th – 16th September, 8pm
WHERE: The Forum, 23 Norton st, Leichhardt
HOW MUCH: FREE
For more information click HERE
2012 Australian Dance Festival
Workshops and competitions and performances, oh my! The Australian Dance Festival is a celebration of local and national dance talent featuring some of the greatest dance talent in the country. Come and see a breath-taking performance or learn to dance yourself. The event caters for all ages and abilities so if you love dance, don't miss out!

WHEN: Friday 14th – 16th September
 WHERE: Sydney Olympic Park, Showground rd, Homebush Bay
HOW MUCH: Varied
For more information click HERE 
Trivial Pursuit: Theatre
One of the many plays and theatrical performances happening in Sydney over the next two weeks, as a part of the Sydney Fringe Festival. Trivial Pursuit is a recognisable story of boy-waits-for-girl-in-pub-and-hopes-he-doesn't-miss-his-chance. Everything is working against Jesse in his pursuit of romance and the Trivia hasn't even started yet. A romantic comedy minus the romance and Hugh Grant, back for it's second run.
WHEN: Friday 14th – 16th September
WHERE: Sidetrack Theatre, 142 Addison rd, Marrickville
HOW MUCH: $10 – $15
For more information click HERE 
Manly Library Zine Fair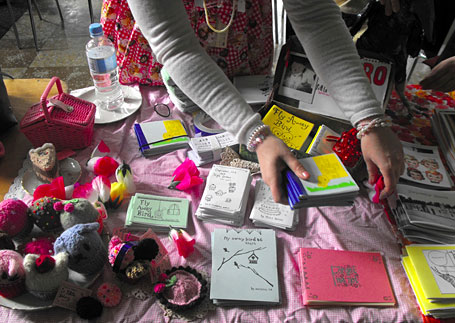 Manly Library is hosting it's third annual Zine fair to highlight and celebrate writing, art, independant media and self-publishing in the Sydney area. Zines are handmade, small publications that run across a variety of topics and themes depending on the personality and interest of the publisher. Come browse the abundance of stalls featuring both local and international publications.

WHERE: Manly Library, Market Lane, Manly
WHEN: Saturday 15th September, 11am-2pm
HOW MUCH: FREE
For more information click HERE
Eastside's Sponsor:
Filed Under: Community Billboard • News